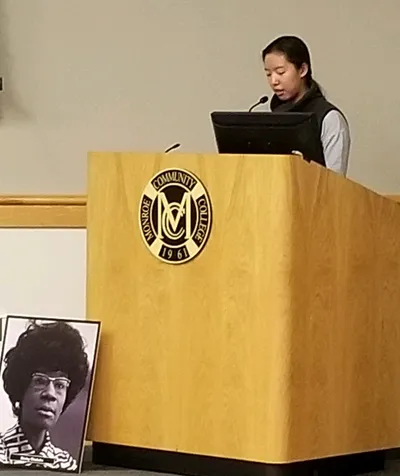 How is 1st A-1st V, Inc funded?
Private Foundations
Publicly-funded Grants & Underwriting
Corporate & Individual Contributions
NYS BOCES Co-Ser Program Eligibility
In-kind Donations
What's the demographic comprising an annual cohort?
Total Students: 150 maximum
New York State regions served: CNY, WNY, Rochester-area, Southern Tier, Syracuse City, and Capital District
Priority: 10th & 11th graders representing a diverse student population
How many students can participate?
What does the program cost per student?
Approximately $500 per school year
Is there a cost to school districts for participation?
YES, school districts participate in a cost-share:
50% of program cost/student covered by 1st Amendment-1st Vote, Inc
Districts may participate via a BOCES CoSer program;  cost gap covered by 1st A-1st V, Inc
Student transportation to/from program venues
Staff substitute for chaperone release time, if needed
NO COST to participating students and their families
How are students recruited for program participation?
High schools recruit and select participants.
1st A-1st V requires a diverse group of students who:
– demonstrate leadership, in some way.
– demonstrate positive, personal characteristics that are representative of her high school.
What are the required sessions for students and chaperones?
30 minute in-school orientation meeting with program facilitator (prior to Seminar)
Full-day instructional SEMINAR (off-site)
FIELD TRIP: historic Seneca Falls, Birthplace of Women's Rights in America (optional)
Two-day LEADERSHIP ACTION SUMMIT (overnight stay at hotel venue)
Does student participation require time away from school?
YES, including one overnight stay. See above for expected attendance.

Does the program align with NYS Standards/Themes?
NYS Social Studies Standards address: Foundations of American Democracy; Civil Rights and Civil Liberties; Rights, Responsibilities and Duties of Citizenship; Political and Civic Participation; and, Public Policy….all of which are built into 1st Amendment-1st Vote's program content. Program content is presented via the instructional SEMINAR, FIELD TRIP visit to Historic Seneca Falls, and Leadership ACTION Summit where students finalize and present their school-level ACTION PLAN for REAL CHANGE in their home schools; and, engage in a simulation addressing strategic campaign roles for a local elected office including the "candidate's" 3-minute stump speech focusing on a local environmental or civic rights "hot button" issue.
Are there follow-up opportunities for participants?
YES…opportunities may vary from year-to-year, such as:
Serve on 1st Amendment-1 st Vote, Inc Board of Directors as its student representative
Serve on 1st Amendment-1 st Vote's STUDENT VOICES TEAM
Serve a volunteer internship at Women's Rights National Historical Park or Erie County Commission on the Status of Women, or other related affiliation
Recruit one classmate for following year's program…and/or serve as a program presenter
Volunteer in her community on a Presidential, Congressional or state/local candidate's campaign
Program Ambassador
What is your plan for sustainability?
Download or view our Strategic Action Plan 2021-2027 HERE